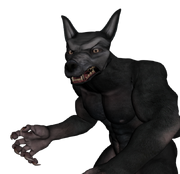 Kanis is an antagonist in Ryne & Dal. He works as the main attraction at Maxwell's Gym, where he fights his physical equal: Slit.
He is a violent individual with a passion for bringing the pain. He was first voiced by Vance Parks.
Appearance
Edit
Kanis is a large, anthropomorphic wolf with black fur and faded pink flesh.
Personal History
Edit
Ad blocker interference detected!
Wikia is a free-to-use site that makes money from advertising. We have a modified experience for viewers using ad blockers

Wikia is not accessible if you've made further modifications. Remove the custom ad blocker rule(s) and the page will load as expected.