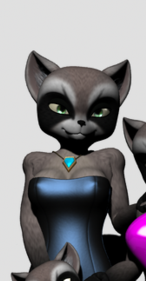 Mother Ampersand
Edit
Mother Ampersand is a protagonist in Ryne & Dal. Her actual name is unknown, she is only referred to as 'mama' by her son, Ryne Ampersand.
Appearance
Edit
She is a large, anthropomorphic raccoon with grey, black, and white fur. She usually wears a black dress with a green gem necklace.
Personal History
Edit
Mother Ampersand is an accomplished lawyer in Dystopia. Due to her demanding work, she is rarely able to spend time with her children.
Ad blocker interference detected!
Wikia is a free-to-use site that makes money from advertising. We have a modified experience for viewers using ad blockers

Wikia is not accessible if you've made further modifications. Remove the custom ad blocker rule(s) and the page will load as expected.