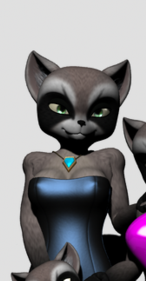 Mother Ampersand
Edit
Mother Ampersand is a protagonist in Ryne & Dal. Her actual name is unknown, she is only referred to as 'mama' by her son, Ryne Ampersand.
Appearance
Edit
She is a large, anthropomorphic raccoon with grey, black, and white fur. She usually wears a black dress with a green gem necklace.
Personal History
Edit
Mother Ampersand is an accomplished lawyer in Dystopia. Due to her demanding work, she is rarely able to spend time with her children.