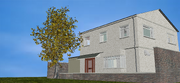 Ryne & Dal's House
Edit
Ryne and Dal's house is a location in Ryne & Dal. It is the residence of Ryne Ampersand and Dal. The house is modeled after common American subdivision homes. It also bears one maple tree in front of the garage.
Previous to Ryne and Dal's ownership, the house was originally crafted to be the subject of a bomb experiment, quite similar to the Upshot-Knothole Annie weapons test.
Whenever destroyed, the house is always rebuilt by city officials.
Dal has torn the roof off on multiple occasions.
Ad blocker interference detected!
Wikia is a free-to-use site that makes money from advertising. We have a modified experience for viewers using ad blockers

Wikia is not accessible if you've made further modifications. Remove the custom ad blocker rule(s) and the page will load as expected.