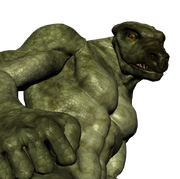 Slit is a protagonist in Ryne & Dal. He works at Maxwell's Gym as an attraction in fights against Kanis and Ryne Ampersand.
Appearance
Edit
Slit is a large, anthropomorphic lizard with green scales with amber-orange eyes. He is a high-metabolism Lizardman or Superior Lizardman.
Personal History
Edit
Kanis was born into a Lizardmen Tribe from the mountains of Russia. Slit was hired by Maxwell's Gym as an attraction in 2011.
In Enter the Lizardmen, Slit temporarily convinced the Lizardmen he was the Leader.
Ad blocker interference detected!
Wikia is a free-to-use site that makes money from advertising. We have a modified experience for viewers using ad blockers

Wikia is not accessible if you've made further modifications. Remove the custom ad blocker rule(s) and the page will load as expected.